Outdoor Medium Voltage SF6 Gas Load Break Switch (LBS)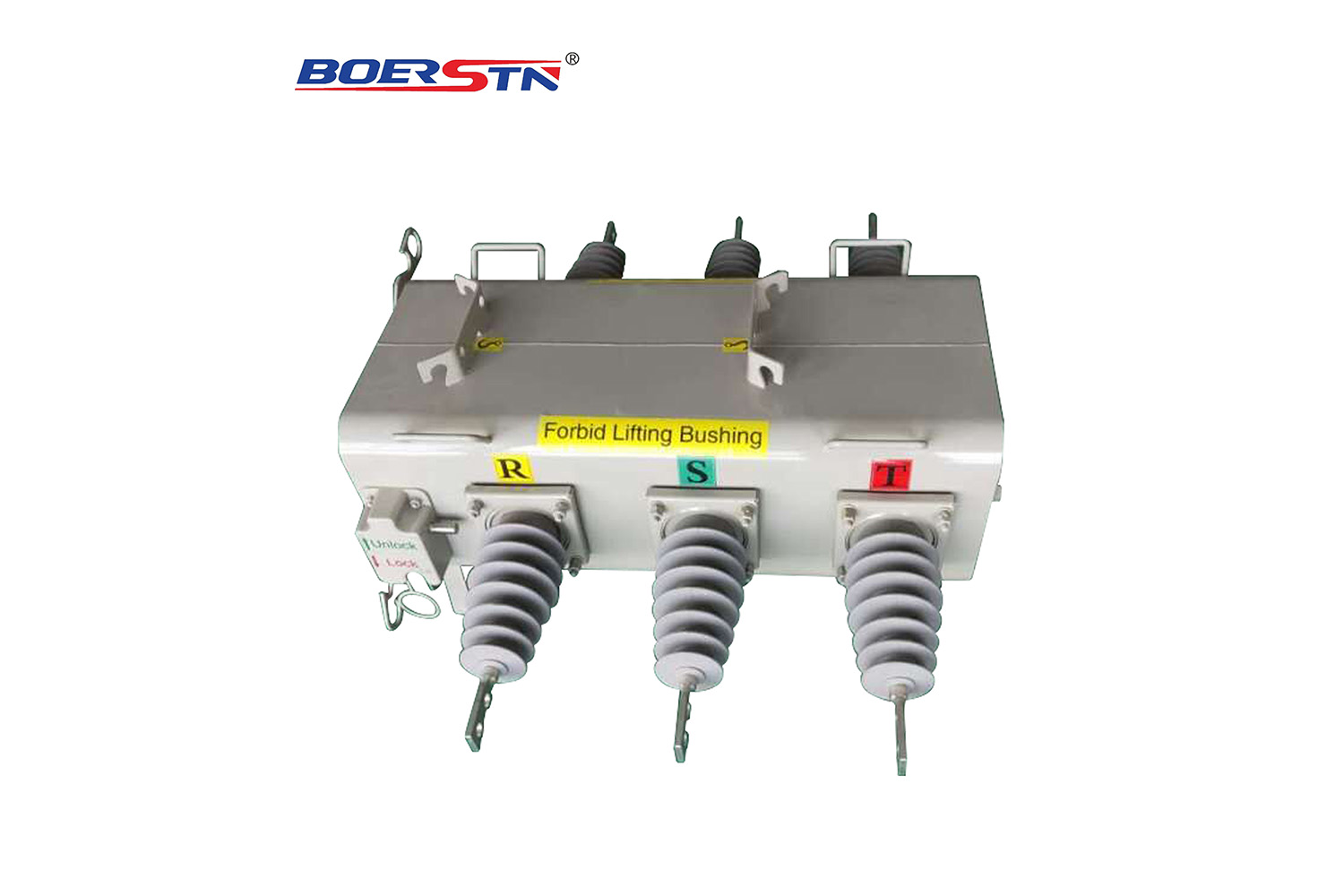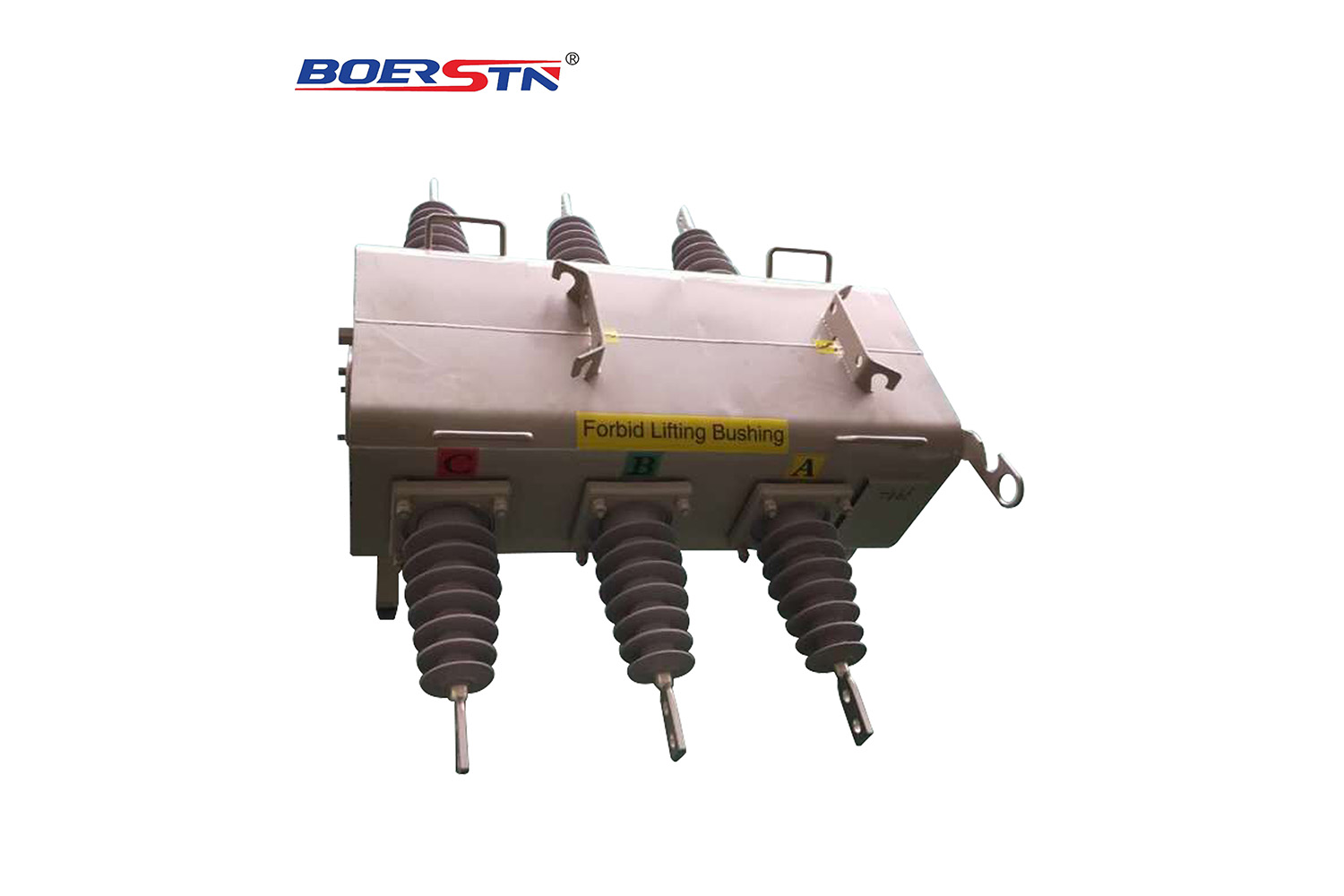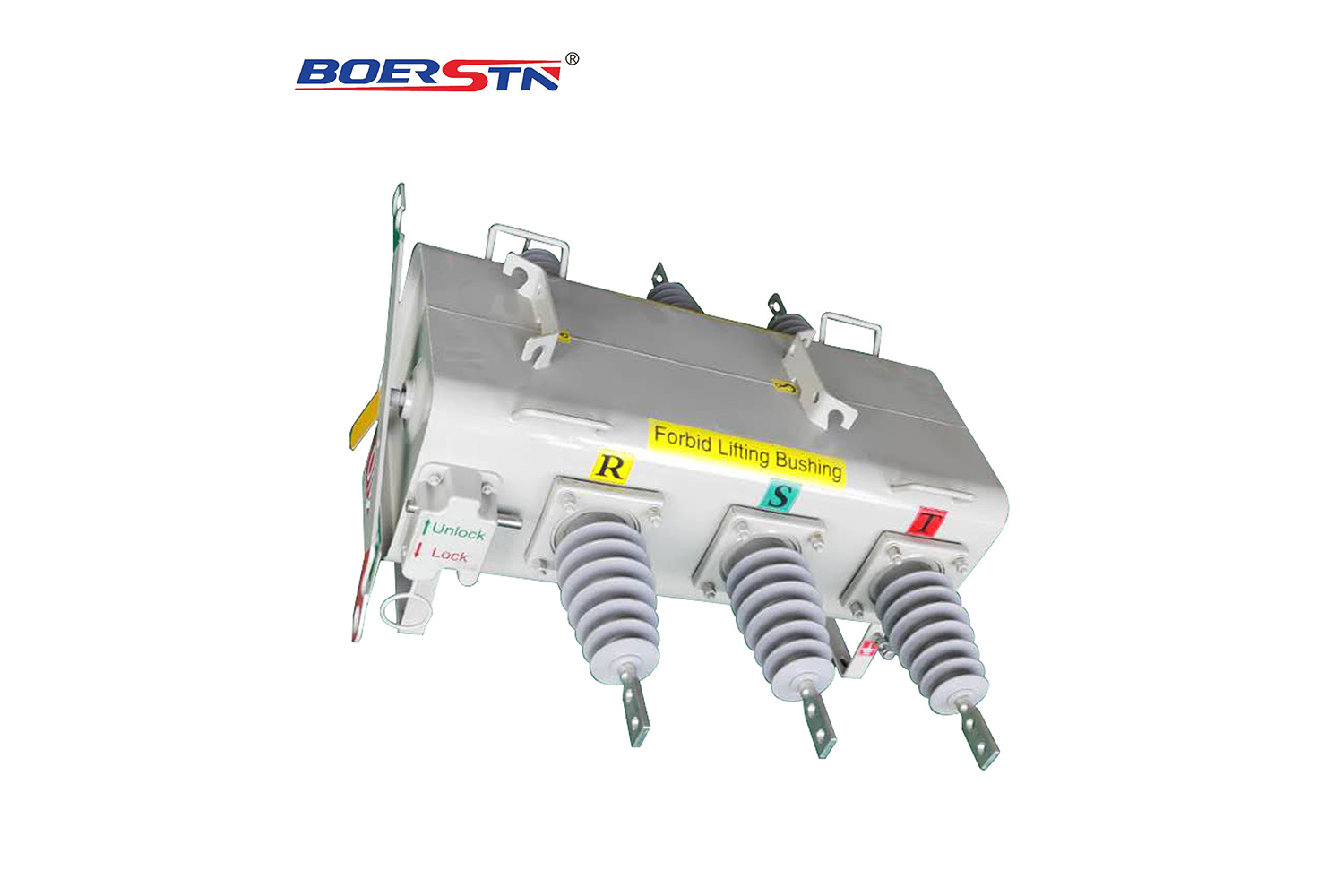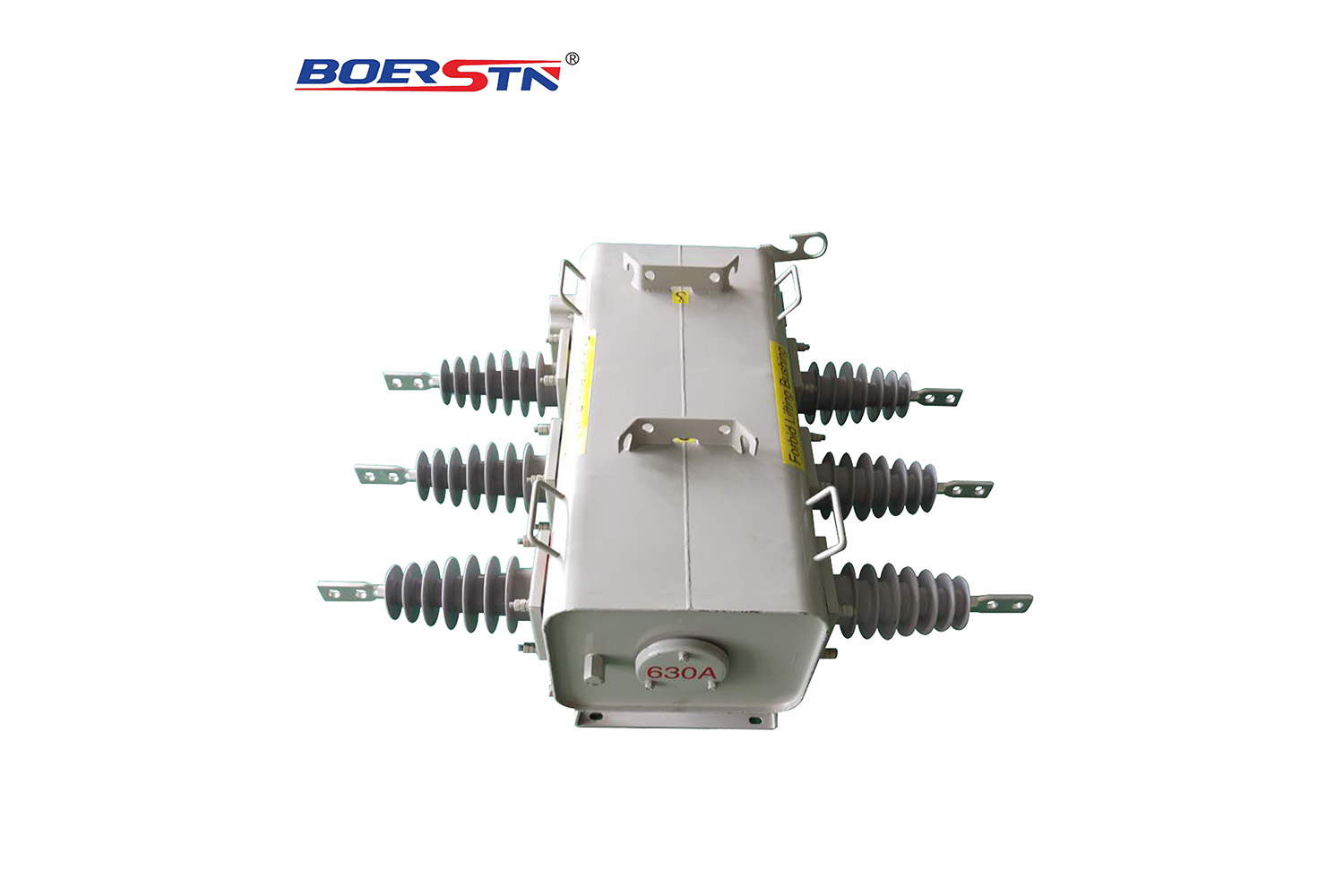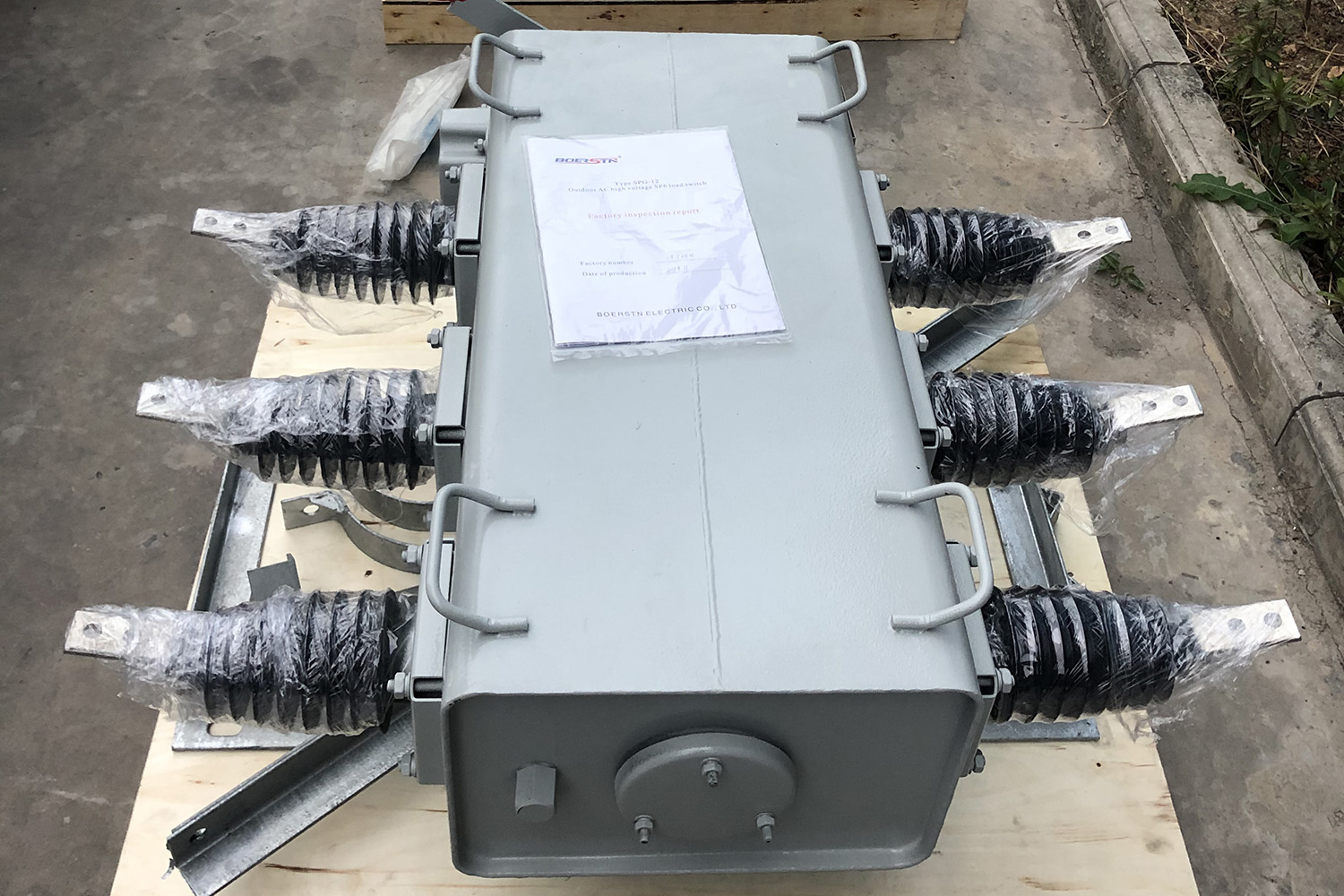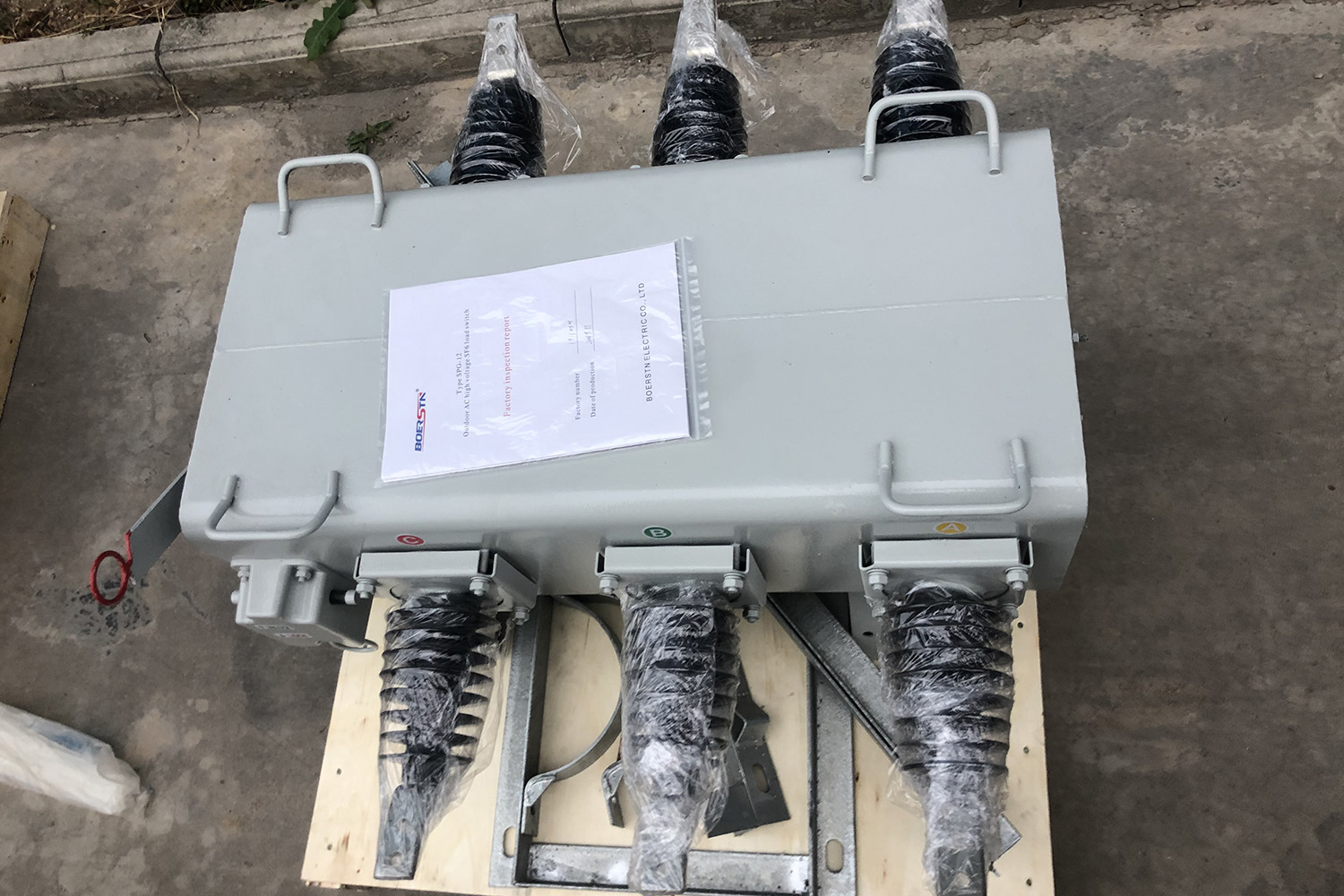 Outdoor Medium Voltage SF6 Gas Load Break Switch (LBS)
Pole-mounted load-break switch (Pole-LBS) applies up to 36 kV 400/630 A, 50 Hz Pole-LBS associated with a State-Of-The-Art Controller. This SF6 gas-insulated switch can corporate with the Distribution Automation System, and also isolate a faulted section of distribution line from the Control Center.

PRODUCT DETAILS
Construction
LBS Controller
Connection
Product description
A simple pole-mounting arrangement contribute to quick and low cost installation, and the switch can be operated manually with a electronic controller. Electronic controller is contained in a stainless steel cabinet for an all weather environmental conditions. Remote monitoring and control can also be provided mounting wire or wireless Modem in a cabinet.
Standard service condition
It shall be principal that this SF6 Gas Load Break Switch shall be used in the following service condition;

3.1.Ambient temperature

3.1.1.Short period peak value : 50℃
3.1.1.Average over a period of 24 hours : 40℃
Lower limit over 24 hours : -25℃

3.2.Relative humidity : 100%

3.3.Maximum altitude : 1,000meter
Features
4.1.SF6 Gas Insulation

4.1.1.SF6 gas is a nontoxic, non-flame-able dielectric with excellent arc quenching property.

4.2.Bushing Versatility

4.2.1.In addition to the standard porcelain bushing, a variety of options are available including elastomeric insulator over epoxy apparatus bushing.

4.3.Visible Open/Close

4.3.1.The color coded main contact position indicator(green-open, red-closed) is easily visible from the ground. The indicator is connected directly to the main contact drive shaft assembly assuring accurate contact status.

4.4.Quick Operation

4.4.1.Spring charged operator is being utilized compression spring to assure quick make and quick-break operation.(<1 Sec.)

4.5.Remote Controllable

4.5.1.Electronic controller is available offering local operation or RTU-interface for master station control.

4.6.Robust Switch 4.6.1.The switch is manufactured from robust, corrosion resistant, proven materials to ensure long service life and also capable of a number of operations which is an ideal characteristic for pole-mounted equipment. 4.7.Standard 4.7.1.Every switch is factory filled, hermetically sealed and production tested according to IEC60265-1(1988) prior to shipment.
5.1.Type
Bushing

Terminal Type

Rated Current

Type

Porcelain
bushing

Lug

Conductor: 125㎟

Pt

400A

terminal

Conductor: 200㎟

Pt

630A

Mold

Conductor: 125㎟

Pm

400A

cone

Conductor: 200㎟

Pm

630A

Lug

Conductor: 125㎟

Rt

400A

Polymer

termina

Conductor: 200㎟

Rt

630A

Rubber

Mold

Conductor: 125㎟

Rm

400A

Bushing

cone

Conductor: 200㎟

Rm

630A

Pt: Porcelain Terminal

M: Manual

1: 12kV/400A

0: Without

Pm: Porcelain Moldcone

E: Electric

2: 12kV/630A

Surge Arrester

Rt: Rubber Terminal

A: Automatic 3: 24kV/400A

1: With

Rm: Rubber Moldcone




4: 24kV/630A

Surge Arrester

Fig.1) Porcelain Bushing – Mold Cone
Fig.2) Rubber Bushing – Mold Cone

Fig.3) Rubber Bushing – Lug Terminal
Fig.4) LBS with Surge Arrester
5.4. Ratings
Products Type

PGS-12

PGS-24

PGS-36

Basic Ratings

Maximum System Voltage

12KV

24KV

40.5KV

Rated Voltage

11KV

20、22、24

30、33、36

Rated Current

400/630A

400/630A

400/630A

Rated Frequency

50/60Hz

50/60Hz

50/60Hz

Short Time Withstand Current

20KA/4sec

25KA/1sec

20KA/1sec

Making and Breaking Capacity

Mainly Active Load Current

630A

630A

630A

Number of Load-break Operations

400times

400times

400times

Short-circuit Making Current (peak)

50KA

50KA

50KA

Numberof Making Operations

5 times

5 times

5 times

Cable Charging Current

25A

25A

25A

Line Charging Current

1.5A

1.5A

2A

Closed Loop Circuit Current

630A

630A

630A

Transformer Magnetizing Current

22A

22A

22A

Power Frequency Withstand Current Test

Wet Condition- 10 sec(Ph- Phips-Eth, Across Interrupters)

45KV

50KV

70KV

DryCondition-1min(Earth, Phase to Earth)

50KV

60KV

95KV

Dry Condition - 1 min( AcrossInterrupter )

50KV

60KV

110KV

Impulse Withstand Current Test( 1.2 x 50 µs )

Phase to Phase, Phase to Earth

85KV

150KV

195KV

Across Interrupter

95KV

150KV

215KV

Other Ratings & Specifications

Internal Arc Test

20kA /0.1 sec

20kA /0.1 sec

20kA /0.1 sec

Arc Extinction Medium

SF 6 Gas

SF 6 Gas

SF 6 Gas

Insulation Medium

SF 6 Gas

SF 6 Gas

SF 6 Gas

Creep age Distance (Porcelain)

550mm

840mm

1055mm

Creep age Distance (Silicon)

610mm

900mm

1250mm

IP Level

54

54

54

Operation Performance

Closing/Opening Time

<1sec

<1sec

<1sec

Mechanical Operations (Guaranteed)

10000times

10000times

10000times

Operating Temperature (*Manual Type)

-25(-40)~70℃

-25(-40)~70℃

-25(-40)~70℃

Gas Pressure

Nominal Pressure (kg/cm2 G, at 20°C)

0.7

1.0

1.0

Bursting Pressure (kg/cm2 G)

4~6

4~6

4~6

Minimum Gas Pressure (kg/cm2 G)

0.05

0.0

0.0

Leakage Rate (cc/ sec)

≤1%

≤1%

≤1%
6.1.Overview of switch and controller (Type:iDA-GRcA-6)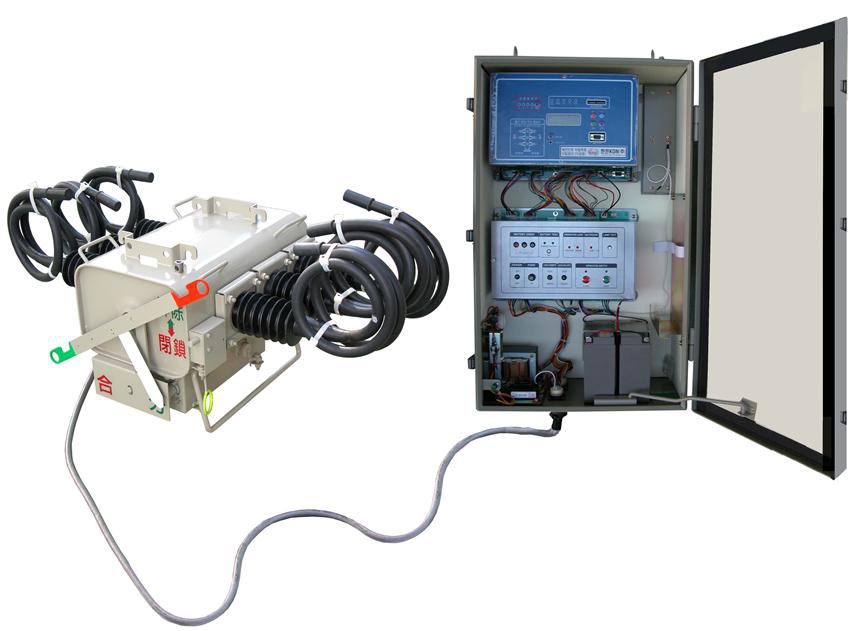 Fig.5) Connection Diagram
6.2. Overview and Dimensions of switch
Dimension(mm)

Installation Dimension(mm)

Packingsize(mm)

Creepdistance of bushing(mm)




A

B

C

Length×Width

Length×Width×high




12KV

225

435

500

500×390

1100×900×700

556

24KV

300

435

500

500×390

1300×1100×700

840

40.5KV

350

435

500

700×390

1400×1200×700

1250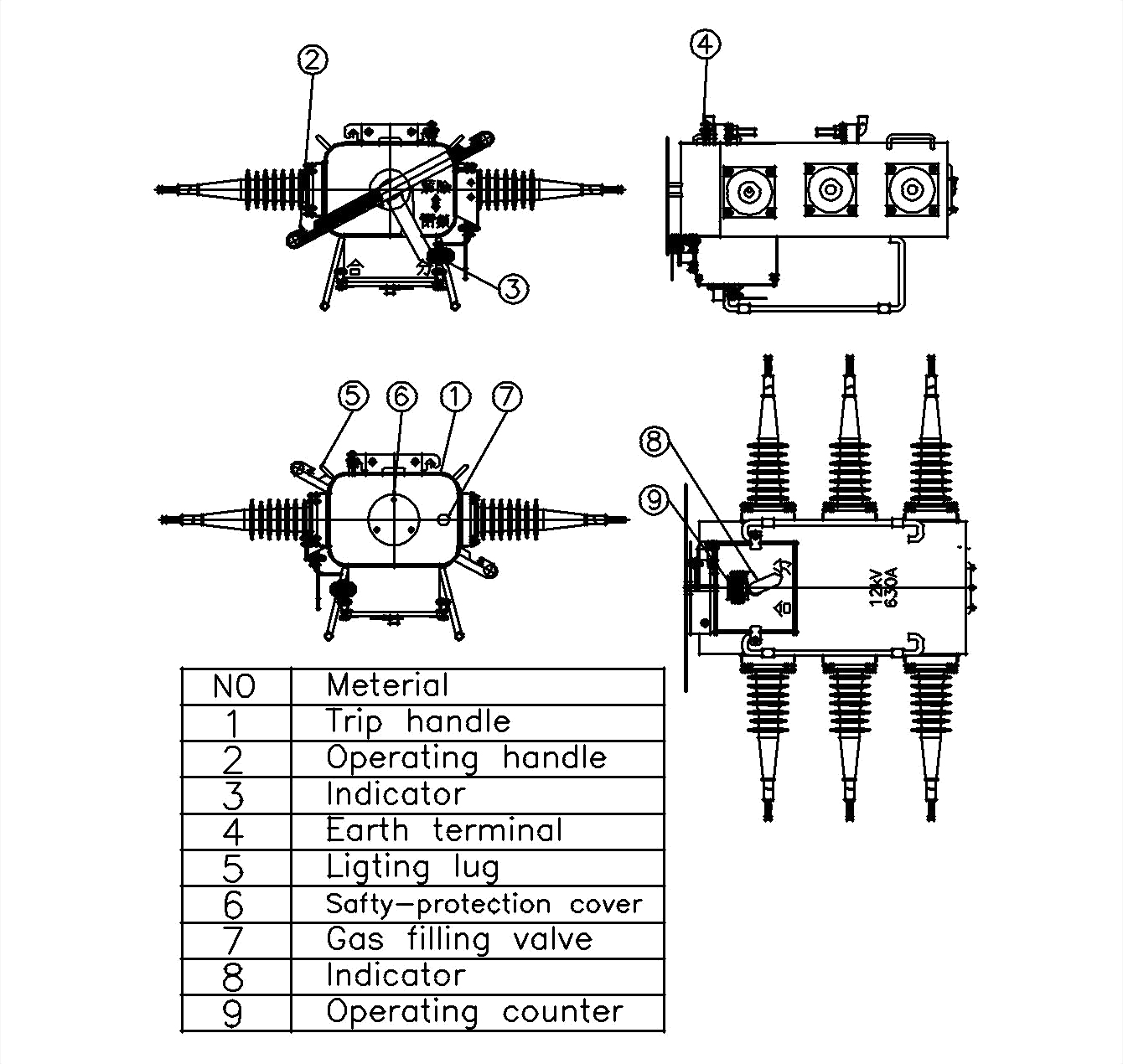 6.3.LBS Main Body.

6.3.1.SF6 gas insulated switch is a three-phase gang-operation switching device designed for cable and overhead line sectionalizing applications on distribution systems, being operated manually at site or remotely from control center.
6.3.2.Switch tank shall completely sealed by welding and/or rubber -seal gasket, and all components shall be assembled in a welded stainless steel tank.
6.3.3.Switch tank shall be designed to withstand internal pressure without affecting the performance of the switch.
6.3.4.The enclosure of tank is used of the material of the cold rolling stainless steel of over 3mm (STS 304L) or more than equivalent to be able to endure against inner gas pressure and is treated for completely anticorrosive by coating of resin over the enclosure. And the enclosure is the rustless structure by separating bottom side over 10 mm from ground.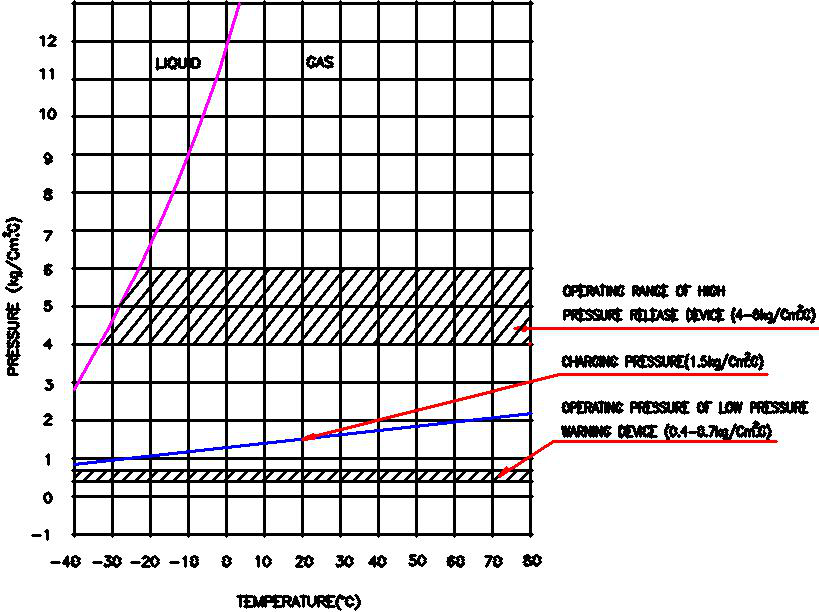 Fig. 6) Temperature-pressure characteristic curve
6.4.1.SF6 gas used for Pole-LBS is high-pure products and is designed and manufactured to keep below 1,000ppm for water content in gas of main body during loaded current switching.
6.4.2.Considering application temperature range and gas leakage of gas in Pole-LBS, rated pressure, maximum pressure, maximum guaranteed pressure and gas pressure drop locking pressure are as shown in attached

6.5.The factory built-in accessories
6.5.1.Manual operating handle
The LBS is to be safely and easily operated by hot stick for high voltage, and is the structure being completed the on or off by one time operation.
6.5.2.Safety lock device
It is possible to lock the operation apparatus in the position of On or Off, its structure is impossible to electrically and mechanically operate to on or off position in case of locking.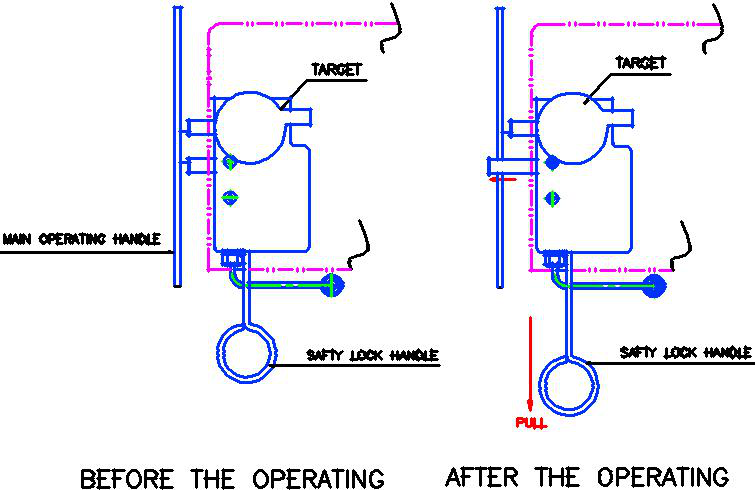 Dwg.2) Safety lock device

6.5.3.Contact position Indicator
The color coded main contact position indicator(green-open, red-closed) is easily visible from the ground.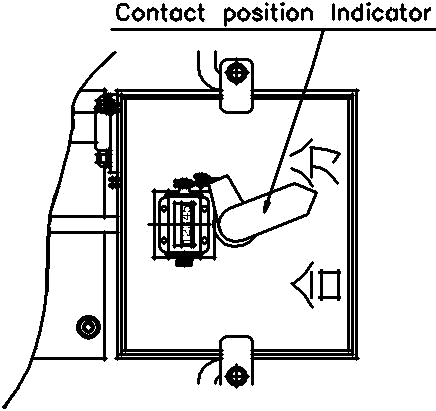 6.5.4.Low pressure warning device
The automatic locking apparatus is equipped to be impossible for electrical and mechanical On-Off operation in the state of causing a risk when On-Off operation due to the pressure drop(0.4~0.7㎏ /㎠ .G) and there is the indicator being able to easily certify by the operator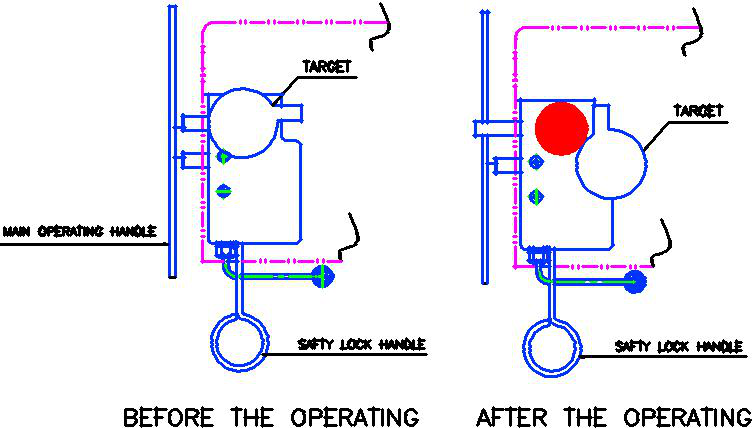 Dwg.4) Low pressure warning device

6.5.5.High pressure release device
The gas release apparatus with the structure preventing the demolition of the tank for the safe of operator and common people and that the inner apparatus is not spread to outside in case of sudden rising of the inner gas pressure of the main body due to the internal trouble is equipped.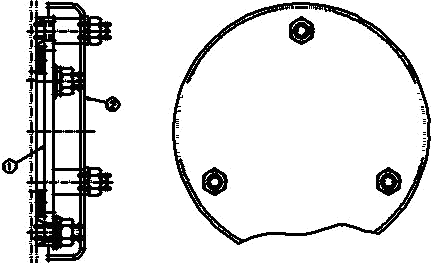 Dwg.5) High pressure release device
6.5.6.Gas filling valve
The valve is equipped to instill gas in the tank of the main body

Dwg.6) Gas filling valve
6.5.7.Grounding Terminal
Its structure is easily connect with the copper cable of 22mm² ~ 38mm² without the extra auxiliary clamp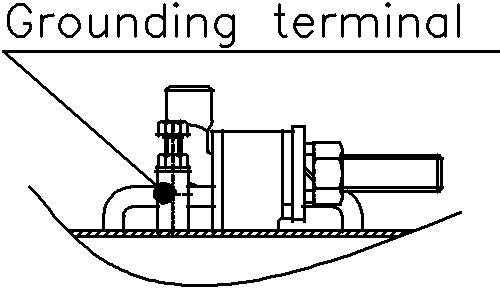 Dwg.7) Grounding terminal
6.5.8.Lifting lug
The four (4) Handle for transportation are installed on the upper side of the main body

Dwg.8) Lifting lug
6.6. Polymer Rubber Bushing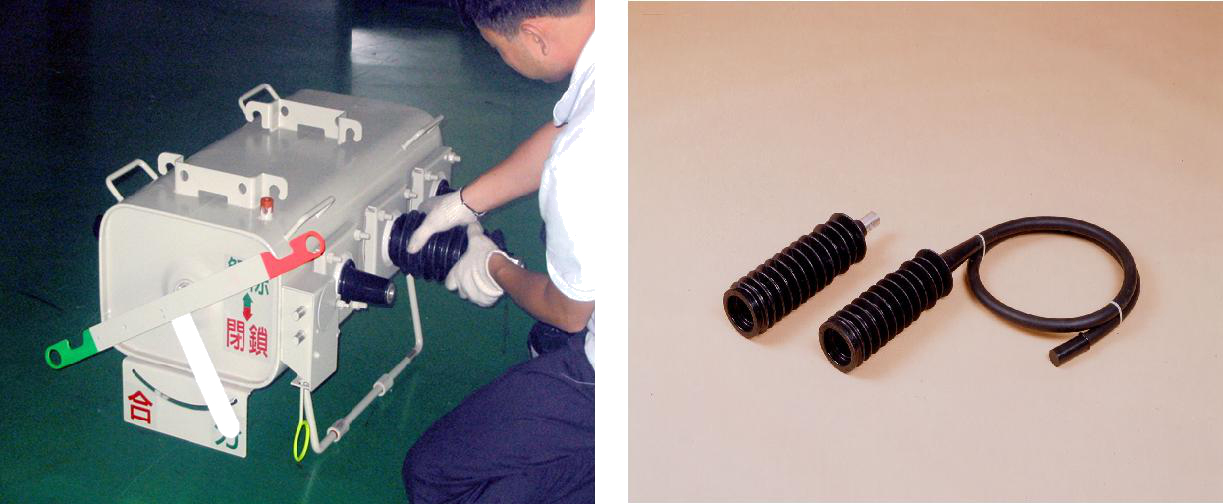 Fig.8) Rubber Terminal & Rubber Mold-cone
6.6.1.The material of the bushings is as of the epoxy and EPDM rubber or porcelain.
6.6.2.Features of the epoxy and EPDM rubber
-Light weight and easy to handle.
-Unbreakable.
-Integrated design with moldcone.
-Excellent Mechanical Strength.
-Self cleaning function.
-Short installation time and maintenance.

6.7.External connection terminal

6.7.1.The insulated cable for high voltage that has the flexibility and weather proof for the mold cone lead wire method is used, the nominal area and composition of core are over 125㎟ (159/1.0) for 400A and over 200㎟ (19/14/1.0) for 630A, and the length required is over 2m.
6.7.2.In case of the terminal type, allowable current for sectional area of the conductor is 630A.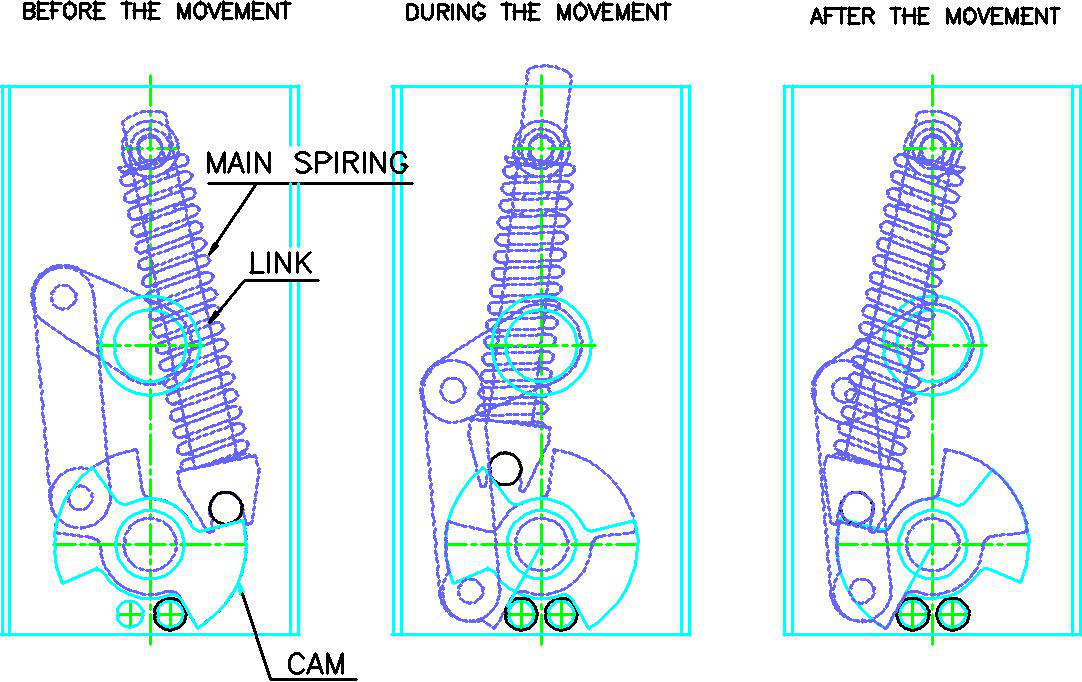 Dwg.9) Operating Mechanism
Fig.9) Overview of Controller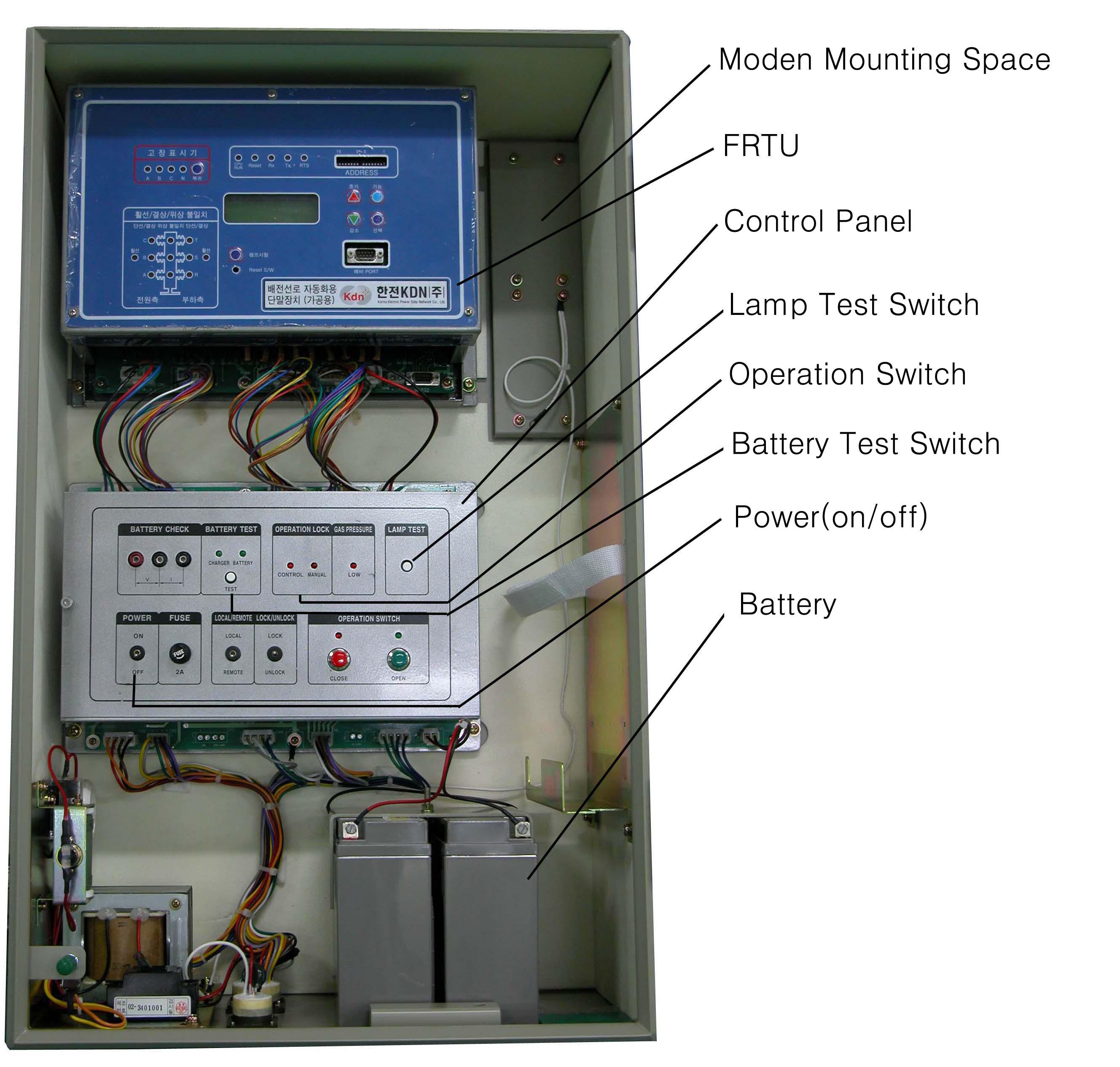 7.1. The control box shall be manufactured by using stainless steel plate over than 1.5mm thickness and shall have the installing clamps to easily install at the concrete pole

7.2.The controller can operate the pole-LBS by locally or remotely.

7.3.The controller monitors the SF6 gas pressure of pole-LBS.
If gas pressure falls below a pre-set threshold(0.4-0.7kg/㎠ .G), then an SF6 low pressure red lamp is lit on the local panel, and electrical and manual operations are locked out.
7.4. The control box contains the following operation and display device

7.4.1.Operation switch: Close, Open
7.4.2.Operation selecting switch: local/remote
7.4.3.Operation locking switch: Lock/unlock
7.4.4.Rechargeable battery test terminal and test switch
7.4.5.Lamp test switch
7.4.6.Control power switch (on/off) and fuse
7.4.7.LED
-Display of main contact condition: close(red), open(green)
-Display of locking for low gas pressure
-Display of locking for switching operation (Control box/main body)
-Display of condition of recharging part and rechargeable battery

7.5.The rechargeable batter and charging devices are as follows

7.5.1. Rechargeable battery for control power
- This is DC 24V and rechargeable. This makes more than 50 switching operations by just recharging once and contains the rechargeable battery, which has capability that lasts more than 24hour control under failure of AC power.
7.5.2. Rechargeable battery and charging device
- The recharging current necessary for the battery by ambient temperature is controlled automatically. It contains protection circuit from the over-charge and over-discharge.
7.5.3. Test terminal of rechargeable battery
-Terminal for test and the display of charge condition of article are equipped so that the conditions of the battery voltage and of the charging device can be checked under loading/unloadin condition.

7.5.4. Connecting diagram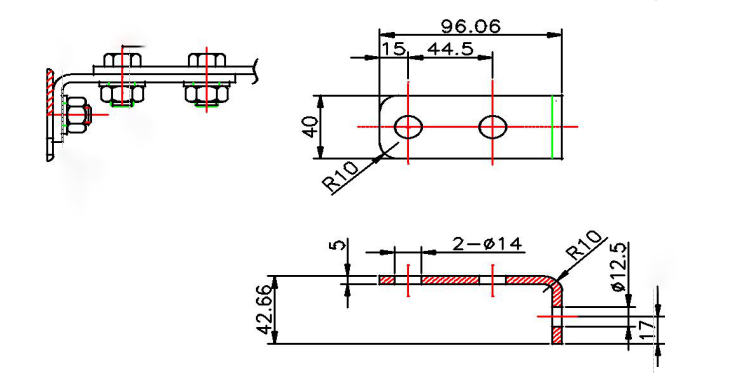 Dwg.10) Connecting diagram on the lug terminal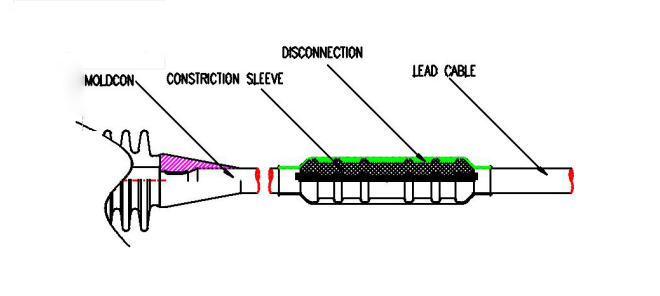 Type #1) Insulation Piercing Connector

Type #2) Compression Sleeve
Detail drawing for Pole Mounting Bracket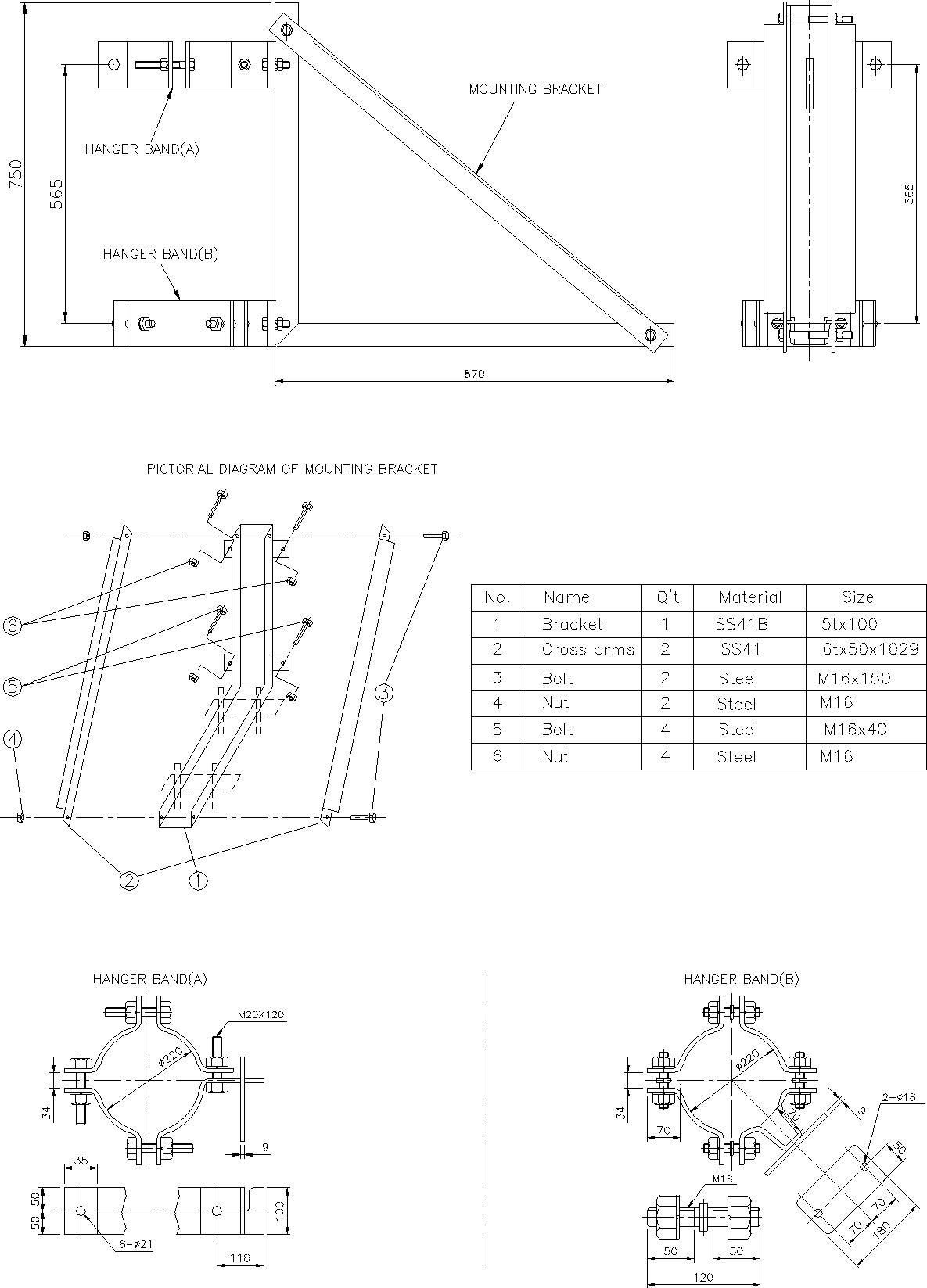 9.Connection of the cable to the switchgear
9.1.Switch Mounting and Dimensions (Automatic Type)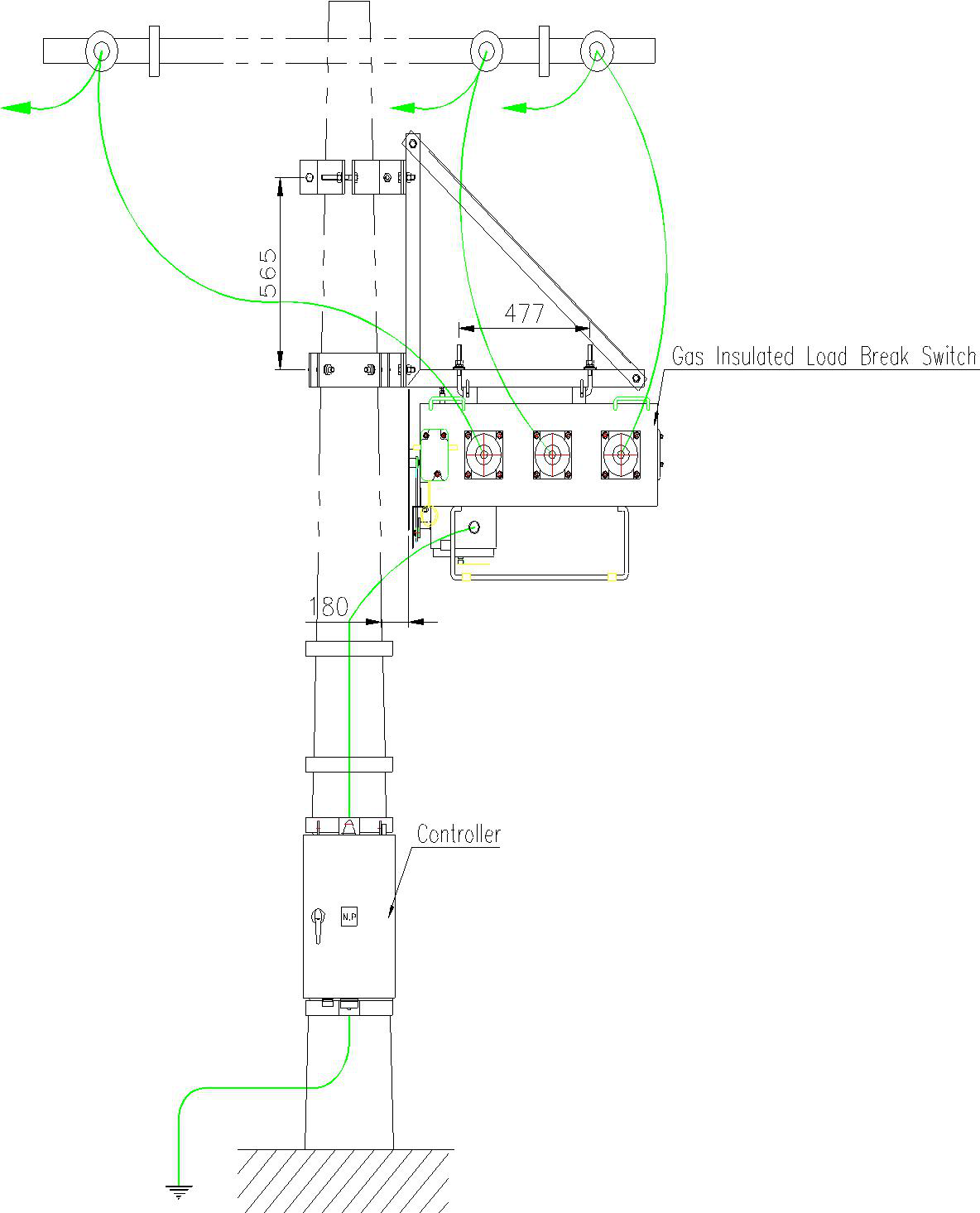 Dwg.11) Switch Mounting and Dimensions
9.2. Switch Mounting and Dimensions (Manual Type)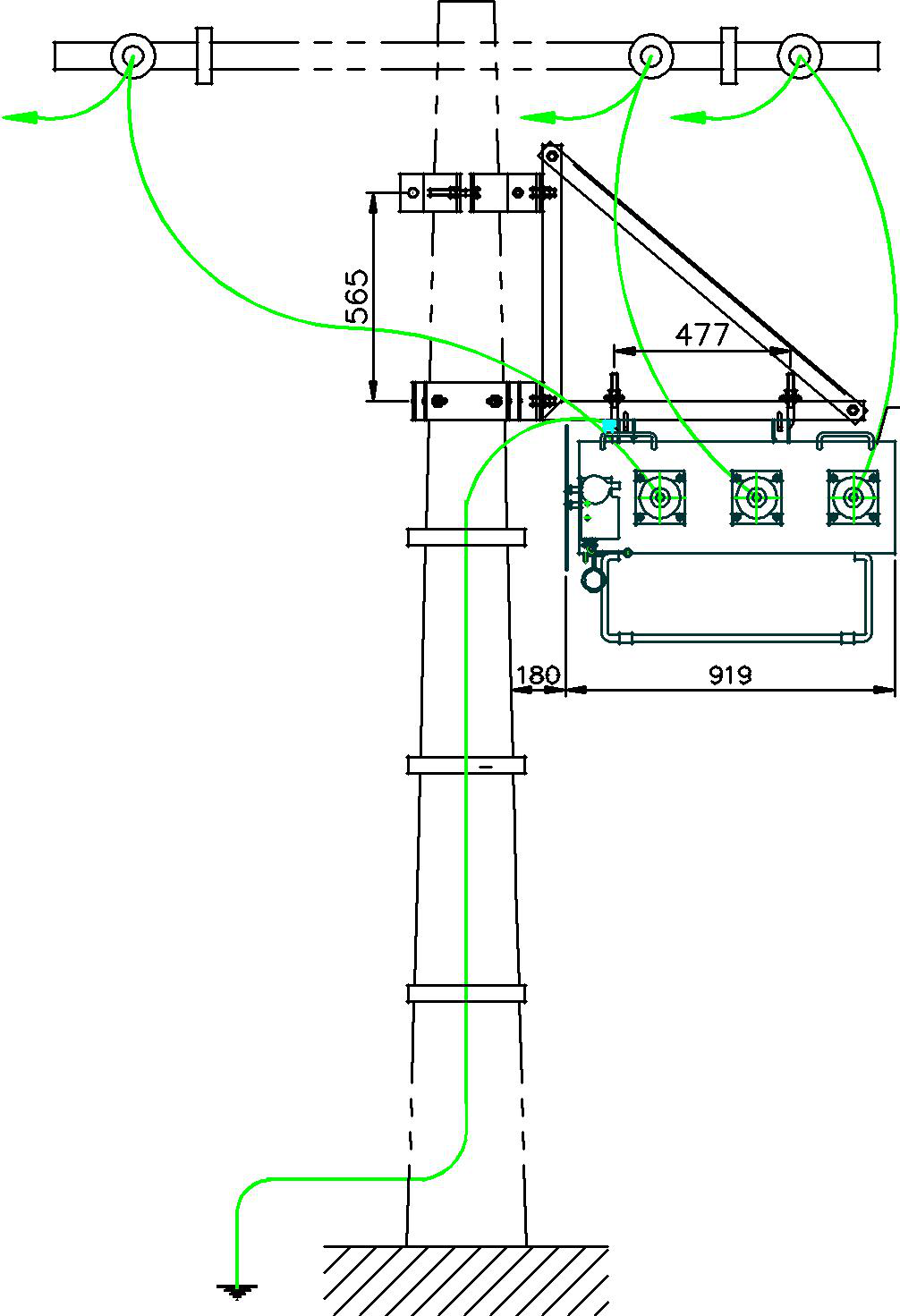 Dwg.12) Switch Mounting and Dimensions
10.1.Overview and Dimension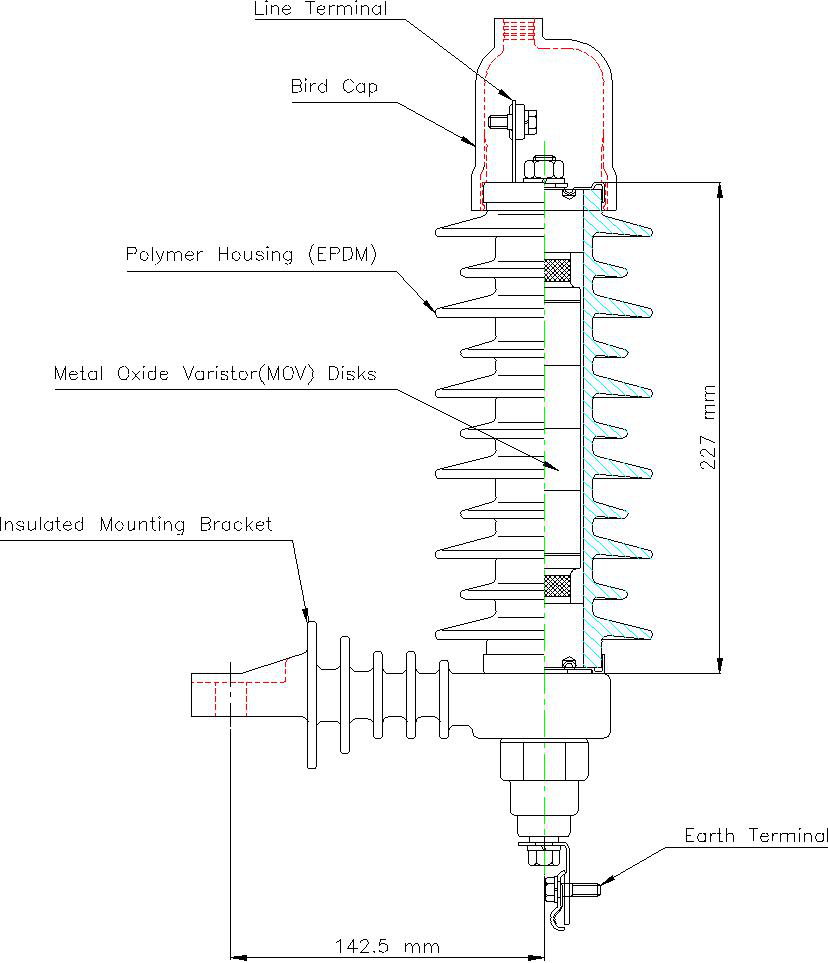 10.2. Rating
| | |
| --- | --- |
| Descriptions | Rating |
| Rated Arrester Voltage | 24 kV |
| Nominal Discharge current, 8/20 μs | 5 kA |
| Max. Continuous Operating Voltage | 10.2 kVrms |
| Residual Voltage, 8/20 μs | 64 kV (at 5kA) |
| High Current Withstand, 4/10 μs | 65 kA |
| Applicable Design and Test Standard | IEC 60099-4 |
Feedback form contact with us